Diwali Mela
Saturday, 19th October 2019
To celebrate Diwali and Nutan Varsh this year we are holding Diwali Mela and Food Stalls on Saturday, 19th October 2019 at Shree Swaminarayan Temple (Mandir) Perth. On this event, there will be outdoor activities for all age groups, fireworks display, face painting, mehndi, delicious food stalls, nasto for sale and lots of other fun surprises. The event runs from 4:00pm to 9:00pm. 
Please Note:

 
When attending Diwali Mela Utsav on Saturday, 19th October 2019, due to limited car park space, please share a car where possible and with the help of Devotees we have arranged shuttle buses for residents living in Bennett Springs, Brabham and Dayton suburbs
 

running every 15 minutes
. Shuttle bus transport has been arranged between designated parking areas for transport to the temple.
We request Devotees to park their vehicles at either Bennett Springs Shopping Center, Slate Cafe or Sikh Gurdwara Temple after 5:00pm.
Please refer to links for more information about the routes and parking arrangements for the day below: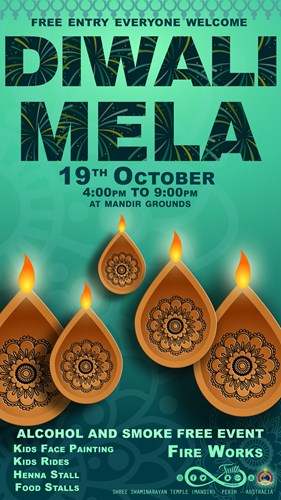 || Jay Shree Swaminarayan ||
Venue
Shree Swaminarayan Temple (Mandir), Perth, Australia Inc
211 Marshal Road
Bennett Springs
P.O Box 102 Beechboro
Perth
WA 6063
Australia
+614892508370
[email protected]